B-e-a-u-t-i-f-u-l rhinestone mesh

for your wedding projects.

This is a beautiful product, with spectacular sparkle, for a very incredibly affordable price. Sold by the foot. Minimum purchase is one foot. Trimming required. Can be trimmed to any number of rows you prefer.

Product Closeup

Swarovski Rhinestone Mesh
24 Rows
Item # CHI-banding

$137.80
Price includes 2 feet + 1 FREE Foot
Swarovski Rhinestone Mesh
24 Rows
Item # CHI-banding
Sold by the Foot
$68.90


4 1/2" wide. Sold by the foot.
The rhinestones are clear, and the mesh backing is either silver or gold-plated. The overall look of the this banding is soft, subtle, and very luxurious. Spectacular sparkle!!

Click on thumbnail image to view IDEAS on HOW TO USE this product.
Banding will be shipped to you in one continuous length, up to 10 feet

.

If you order more than 10 feet, it is possible you will receive multiple pieces.


This is not a finished product.

With this purchase you will receive a piece of rhinestone mesh wrap. It will need to be trimmed and cut to the actual size needed, and attached to the bouquet handle by either yourself, or your florist.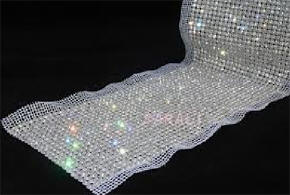 Sorry, no returns. This item is cut to your specifications so it cannot be returned.